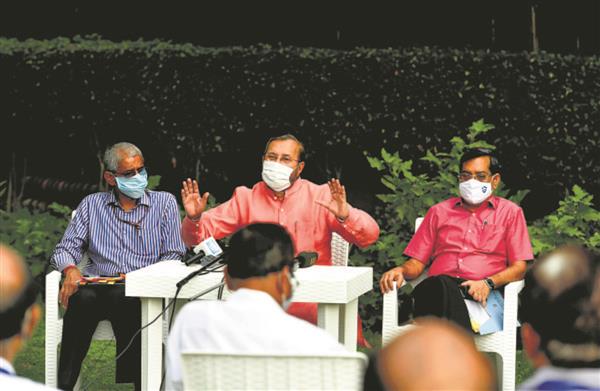 To step up efforts to ensure improved air quality, 50 teams of the Central Pollution Control Board (CPCB) have been deployed from 15th October to make comprehensive field visits to the Delhi-NCR cities.
Addressing the team nodal officers in New Delhi on 15th October, Union Environment Minister Shri Prakash Javadekar said that during the current COVID season, the team members are no less than Corona Warriors, as they will be visiting and providing input from the ground, which will help to reduce air pollution.
Shri Javadekar said that about 95 per cent of the city's emissions are due to local factors such as dust, building and biomass burning, and the share of stubble burning is just about 4 per cent as of 15th October.
These teams will use the SAMEER App for on-site monitoring of significant air pollution causes, such as major building operations without adequate control steps, disposal of waste & building waste along the roads and on open plots, unpaved roads, open incineration of garbage / industrial waste, etc.
Teams will visit the towns of Delhi and NCR-Noida, Ghaziabad, Meerut in Uttar Pradesh; Gurugram, Faridabad, Ballabgarh, Jhajjar, Panipat, Sonepat in Haryana; and Bhiwadi, Alwar, Bharatpur in Rajasthan. These teams would work primarily on hotspot regions where the problem is exacerbated.
Recent advances in the monitoring and simulation of air emissions have made it possible to illustrate that air pollution can be transmitted long distances and that the harmful effects of released contaminants can not be limited to one country or even one continent. Traffic emissions, cooking stoves, and factories that emit half a world away will make the air we inhale more harmful to our health 15th October. The relative importance of this "imported" pollution is expected to grow as emissions in developing countries rise and air quality requirements in industrial countries improve.
Modern societies are suffering from a variety of problems involving key environmental aspects. These concerns include the protection of habitats, safe water and clean air supply, nutritious food, personal and general health and well-being.
The causes of these problems lie in the way individuals – as well as entire societies – interact with the natural and man-made environment through the adoption of specific practises and developmental choices. They are also related to how people view the interaction between human beings, nature and culture, that is, how we view nature, ourselves and others. For decades, even millennia, this kind of relationship has been defined by the belief that man is superior over nature and that he is more strong over the poor sections of the society.