The ICSE and ISC results for 2023 have been released by CISCE. Cisce.org is where students can check it.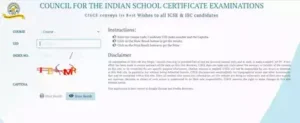 Results for the ICSE and ISC board exams for 2023 were released by the Council for the Indian School Certificate Examinations (CISCE) on May 14. Students can use their unique ID and index number to check it on cisce.org and results.cisce.org. updates on the 2023 ICSE and ISC outcomes.
In total, 1,28,131 boys and 1,09,500 females took the ICSE or Class 10 final test this year. The exam was successfully completed by 1,26,474 boys and 1,08,640 girls, bringing the overall pass percentage to 98.94%.
Boys made up 51,781 of the total number of test takers in ISC or Class 12, while girls made up 46,724 of the total. 45,796 females and 49,687 boys have successfully completed them. 96.93% of students pass the exam as a whole.
In both grades, girls have performed better than boys.
Nine ICSE students scored 499 or 99.8% on the final exam in 2023, placing them in first place as follows:
Annanya Karthik

Rushil Kumar

Shreya Upadhyay

Yash Manish Bhasein

Advay Sardesai

Hiya Sanghavi

Tanay Sushil Shah

Sambit Mukhopadhyay

Avishi Singh
With a score of 399 or 99.75%, five students took the ISC final test and came out on top:
Riyaa Agarwal

Mohd Aryaan Tariq

Ipshita Bhattacharyya

Manya Gupta

Subham Kumar Agarwal
Final exams for ICSE and ISC year 2023 were administered by CISCE in February, March, and April. Exams for ICSE and ISC were given from March 1 to April 5 and from February 27 to March 29 respectively.