The new Delhi-Mumbai motorway passes through a green area and travels parallel to the Agra and Gurgaon canals.
The development of a six-lane highway to connect Noida, Faridabad, and other NCR cities with the Delhi-Mumbai motorway, according to Union Minister of Road Transport and Highways Nitin Gadkari, will cut the travel time from Noida to the motorway by three to four hours.
On Twitter, Nitin Gadkari posted pictures of the new, 50-kilometer motorway. (@nitin_gadkari on Twitter)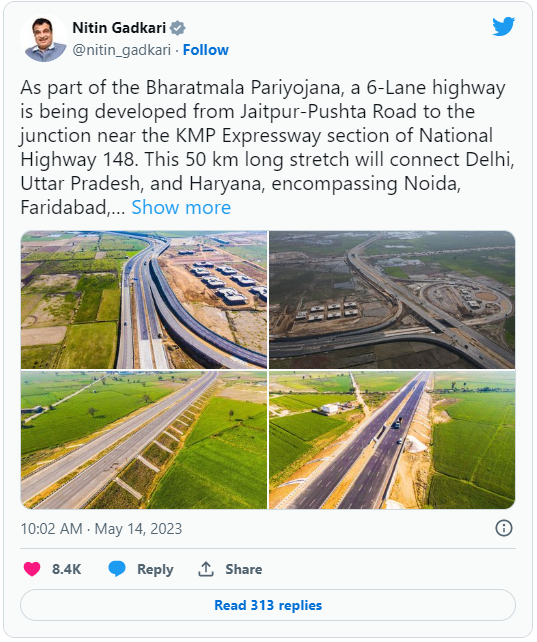 Source: Twitter
A 6-lane highway is being created as part of the Bharatmala Pariyojana from Jaitpur-Pushta Road to the junction close to the Kundli-Manesar-Palwal (KMP) Motorway section of National Highway 148, the minister stated while posting pictures of the new 50 km-long highway on Twitter. This 50 km-long section, which includes Noida, Faridabad, Ballabhgarh, and Palwal, would link Delhi, Uttar Pradesh, and Haryana.
The project, which is projected to cost $2,627 crore, will cut the distance between Noida and Delhi and the Delhi-Mumbai Motorway in half, saving travellers about three to four hours. Gadkari continued, "The new highway passes through a green belt and runs parallel to the Agra and Gurgaon canals."
The 50 kilometre Bharatmala Pariyojna route, which passes through Noida, Faridabad, Ballabhgarh, and Palwal, will link Delhi with Uttar Pradesh and Haryana. The proposal focuses on sustainable development and uses inert material to build elevated structures on a single pier and embankments.
Additionally, the minister said, "Under the leadership of PM Shri Narendra Mod Ji, we are committed to delivering world-class highway infrastructure to all commuters, facilitating economic and social development in the region."
On February 12 of this year, Prime Minister Narendra Modi officially opened the Delhi-Dausa-Lalsot leg of the Delhi-Mumbai motorway, which is expected to cut the distance between the national capital and the financial capital's travel time in half to 12 hours. As an example, the travel time between Jaipur and Delhi will be cut in half from five hours to three and a half hours thanks to the motorway.
The motorway, which is being constructed as part of the Bharatmala Pariyojan, would be India's longest roadway when it is finished, reaching 1,386 miles.
It will increase access to Jaipur, Kishangarh, Ajmer, Kota, Chittorgarh, Udaipur, Bhopal, Ujjain, Indore, Ahmedabad, Vadodara, and Surat thanks to the expressway's 40 interchanges.